By Lauren Gilpin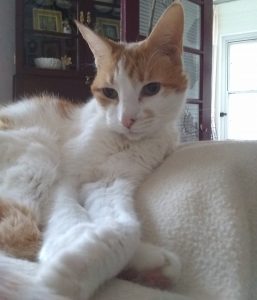 This tribute was penned by our foster extraordinaire, Carol, after the loss of her forever foster, Tigger.
Tigger,a.k.a. Miss Tiggs, a.k.a. Twiggens, was taken to a vet by her humans to be euthanized in 2018, at the age of 14, because the humans were moving and couldn't take her with them. The vet contacted the Ferndale Cat Shelter who opened their hearts and their doors to this vibrant, healthy, soft-eyed white and ginger lady. She became a forever foster in my home and immediately fit herself right in. She did her best to be unwelcoming and hissy to any other foster that came and went.
She excelled at training her foster mom to meet her every whim and desire. She had to drink out of the bathroom tap, on command, because a water bowl didn't meet her standards. Of course, her first morning drink had to be early, like 6:00 a.m. or earlier. She sang wonderful operettic arias to announce when it was tap time. She was also never ever hesitant to repeat her aria at any time during the day when she wanted something.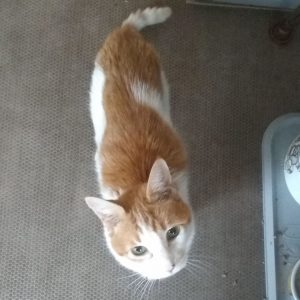 Despite all of her charm she was not a cuddly snuggly kitty. In fact, if she didn't want to be bothered a snort would precede her growl and I knew it was definitely time to back off. Nonetheless, she had her moments, um, like every time I was sitting on the toilet. Then she wanted lap time and she leaned into scritches behind her mouth and around her ears. When I ran my fingers along her back she would rumble with pleasure.
I loved her deeply, but I sometimes wondered what she thought about me. Then one day, after an extended vacation, when she and another foster stayed at home under the care of a caregiver, I found out. The day after I came home I laid down on the bed to nap off my jet lag. Miss Tiggs, the kitty who never jumped on the bed to sleep with me, jumped onto the bed and curled up next to me. She stayed with me for the whole nap. It never happened again, but I knew at that moment that she was saying she was glad we were home together. I have said repeatedly she was the biggest pain-in-the behind kitty I've ever been owned by, and trust me there have been many. She left me on April 30th after nearly two short years, but she has a home in my heart forever.